Chapter 26
My marketing team asked me to write about a woman I admired in leadership. Given that September is Childhood Cancer Awareness Month, I knew I could only write about one person. I met Alyssa Wierzbicki a few years ago and continue to be in awe of her selfless actions and how much she loves each second of life.
Today Alyssa is the Fund Development Coordinator for LACASA, an organization dedicated to helping victims and survivors of child abuse, domestic violence, and sexual assault. Alyssa and her colleagues at LACASA provide safe havens, counseling, and guidance to help these victims regain control of their lives. Alyssa knows first-hand what it is like to have to rebuild your life.
Back in August 2011, Alyssa was starting her freshman year at Michigan State University. At a routine physical, she learned she had Leukemia and would have to immediately leave school to get treatment. It's a difficult diagnosis for anyone to hear, and I imagine it has to be even more difficult during your first week of college. The next chapter of your life is beginning, and Alyssa's took a much different path.
Alyssa left school and moved back in with her parents. Instead of papers and projects, her days were now centered around getting better from an invisible illness. Instead of taking classes, she had weekly chemotherapy appointments followed by radiation treatments.
Ironically, chemotherapy is what made Alyssa actually feel sick. Her weekly treatments were on Fridays, she usually began to feel better on Thursdays just in time for the process to begin again. Naturally, Alyssa was angry at why this was happening to her. Instead of staying in her anger, she instead chose to stay laser-focused on getting better. She followed her doctors' orders and stayed positive. And through her treatment, through her battle with this terrible illness, she found her purpose in life. She found her "Why?"

Like many young people, Alyssa started her college career hoping to graduate with a well-paying job. During her treatment, her life mission changed. Alyssa wanted to dedicate her life to a larger purpose beyond getting a job. When she was at her lowest point in her illness, she decided when she recovered she would spend the rest of her life giving back to others and helping those in need. She wanted to live a life of service to others.
When I first met Alyssa several years ago, I was taken with her ability to be overtly positive and her drive to live each moment to the fullest. She exudes a quiet confidence and is a leader who always puts others first.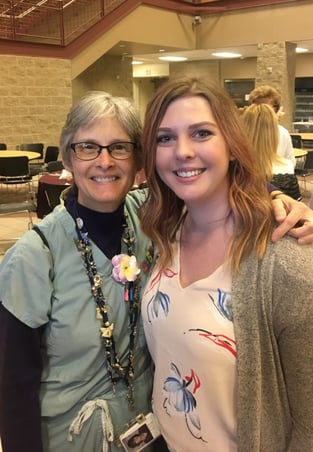 As soon as Alyssa was better, she returned to school and graduated in four years with a 3.85 GPA. During that time, she joined the organizing committee for an event called Up 'Til Dawn, a fundraiser where college students stay up all night and raise money for St. Jude Children's Research Hospital.
On December 6, 2018, Alyssa was cleared of cancer by her doctors and officially considered a survivor. True to her mission, she did not miss a beat and continued helping others.
If you've read more than one of my blog posts, you know I love to talk about the important element in all leadership: people. Caring for those around us is a critical element for anyone wanting to lead. Alyssa has that element. She truly cares about the world around her and she loves doing great things for others. Cancer could have broken her spirit, it could have defined her worldview negatively, but it DIDN'T. She is an incredible example of how leaders persevere and overcome challenges. It also confirms what we already know: leadership is not a position but the ability to take care of other people.
It doesn't matter how organized or prepared we are, a curveball like cancer throws folks completely off their game. How we choose to respond to it is up to us. And listen, I don't want to shame those who stay angry: cancer is a vicious disease that can ruin the absolute best within us. Alyssa used her experience as a catalyst to her "Why?" Her "Why?" is to make a difference in this world and help as many people as possible. She doesn't see her work as a job, she sees it as a mission. Imagine how wonderful and rewarding life can be if we are all on missions.
Today, I celebrate Alyssa Wierzbicki and the impact she's had on so many people, including myself. She has impacted my leadership in many ways. It's more than her positive attitude, it's witnessing her living her "Why?" and how she'll never be derailed. She doesn't work just for a paycheck, she works to make the world a better place. I believe she's doing just that.
At iFrog Marketing Solutions, we are more than a balance sheet. We are trying to transform our clients' businesses. It is way easier to create a lasting impact when you're mission driven and believe in changing the world rather than just selling your services. We are a different kind of company on a mission to make the world a better place. There are easier paths, but none are better for our clients and none are more rewarding.
Thank you, Alyssa, for the inspiration and making the world a better place.
I'd love to hear about your "Why?" - please drop me a line at kt@ifrog.com!
Be a pirate, have an excellent day and make the world a better place! #ifrogmarketing, #ifrogtechnology, #pirates, #PiratesForChange