Before we can discuss anything about how Amazon Display Ads can be used, we need to understand what they are exactly, because although simple, there's more than meets the eye.
Amazon Sponsored Display Ads are a self-service, pay-per-click (PPC) advertising solution that allows brands on and off Amazon to reach their audience with advanced product and category targeting, including ads that appear both on and off Amazon.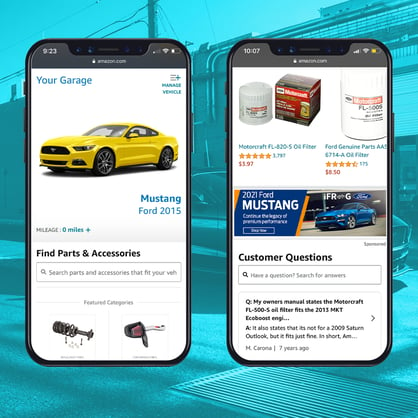 Ok, but how exactly does that work? Display Ads use Amazon's audience demographics data to target audiences based on their shopping behavior. These audiences may be in the market to buy your product because they viewed your product, similar products, or relevant categories.

(One important thing to note is that, unless a dealer/advertiser has an Amazon store, ads will not appear on Amazon itself, however they will show on all other third party sites you get access to through the Amazon network.)


Although we quickly think about Amazon as being the largest e-commerce retailer, it's important to remember they also act as the third largest search engine behind Google and YouTube. Knowing this, we have to understand that the users on the Amazon platform are giving us incredible data that we're able to use to better your entire sponsored ad approach.


Curious about the size of that audience?


So now that we know what Display Ads are and how they're used, why would an auto dealer want to use them, especially knowing that a typical Amazon user wouldn't go to Amazon.com to buy their next car (not today anyway)?



1. Amazon Garage

No, not that Amazon Garage.
The Garage we're talking about is a place where Amazon users can add their vehicle information directly to their profile, and in return get:
Recommended parts

Information on deals and rebates

A place to share knowledge with others who own the same car!
This is where the marriage between the auto industry and Amazon Display Ads becomes incredibly powerful. Now dealers can leverage the rich data from Amazon Garage with third-party data to run tighter, more efficient display ads throughout the entire internet.
2. Amazon Vehicles
Amazon Vehicles is a Car Research Destination and Automotive Community where customers can now view specifications, images, videos, and customer reviews for thousands of new and classic car models on the platform.
The major difference between Amazon Vehicles and Amazon Garage is that Vehicles is more of a research tool where the user goes to the site and uses the feature like a search engine. Garage on the other hand is a place within the user's profile where they add their vehicle, and automatically receive information about their own vehicle.
Why are these features important?
Advertising on Amazon means you get access to a vast number of different audiences that you normally never would.

Ability to see what vehicle makes/models are being searched for the most

Gain better understanding of how your audience researches future purchases
3. Learn How Your Customers Buy
In a world where data is king and personalization its queen, it becomes more and more important to understand the true buying habits of your customers. The automotive industry has quite a different buyer's journey from most of the products that are bought and sold on Amazon.com, but there's still value to be had.
The two points made above give you a better understanding of what your user is specifically looking for or what they have. But here, all we're looking at is data, and specifically to find out how your ideal customer goes about their day to day purchases. Do they quickly fill their cart with everything they need and checkout immediately? Or do they add items to their cart, take time to do research and come back to checkout?
This information doesn't tell you how they'll buy their next car, but can certainly help you and your marketing team tailor ads to the correct audience based on this information. Maybe we send those that do more research an e-book or video, and those that purchase quickly can be targeted with a display ad that says "Purchase a vehicle today to get in on our sale".


Final Thoughts
As you read through the information above, there's one theme that's a constant throughout. Data is king, and can be used in so many different ways to make the lives of our teams, and most importantly our customers much easier.
Although the display ads you create on Amazon look amazing and run efficiently, the main reason you'd want to enroll in this service is for the data you'll obtain and use to make ALL your current marketing efforts more effective. In doing our own research, we've seen multiple cases of dealers using Amazon with success, but know there's still a ton of opportunity for others to join the fray since this is still a new concept to the industry. If you're looking to try something a little different to get some new leads, Amazon Display Ads are certainly worth a look.
When you partner with iFrog, you can count on 1-on-1 communication that's backed by a team of experts. We work with you and plan collectively to set goals for the future with enough agility to pivot as needed. We are driven by results where we focus on business outcomes while continuously testing new ideas to drive innovations and sustainable competitive advantages. Are you ready to take the leap with iFrog? Schedule time with us!